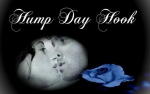 Greetings, all!
With the impending conclusion of Six Sentence Sunday, I've joined a couple of other blog hops and Hump Day Hook is the first to come along!
It's a pretty simple idea: post a paragraph from a published work or work in progress, get and give comments from visitors and visit other authors.
I've decided to start by celebrating an anniversary of sorts. My gay erotic quickie, After  Hours, was pitched and contracted within a week in January, so that seems like a good place to start! Here we go!
"Coffee, tobacco or tea, BriteWite leaves your smile bright and white!" I delivered the tagline without retching and flashed my cover model smile.
"Thank you!" yelled the director. "We'll call."
Hopefully not looking skeptical, I thanked the panel and left the agency's studio. Waiting for the elevator to wheeze up ten floors, I examined my reflection in the doors. Who could possibly outdo this—especially for a toothpaste ad? Blond curls framed a tan, all-American boy-next-door face with great teeth. What more could they want? Chiming its arrival, the elevator opened and I watched my face ripple as the doors receded. Sighing, I punched the lobby button and leaned back as the elevator shuddered downward.
Thanks for stopping by! Be sure to check out more hooks here.
After Hours appears in Shane Allison's Brief Encounters and is available as a stand-alone e-story at All Romance eBooks, Amazon, Rainbow eBooks and other fine etailers.
'Til next time!