Welcome, everyone!
It's Saturday, which means it's time for some Seductive Studs and Sirens! I'm doing another clip from Double Team; so to catch up, click here. We join the guys as they leave the Student Union:
We made short work of the trip to Joey's dorm. Malcom Hall was an original Grandville building and sat just across the Quad opposite the Student Union. The room was more than large enough for Joey and his two roommates. He explained it had actually been meant as a four-man space, but due to an odd pipe intrusion, the square footage only allowed for three occupants—and they had made the most of it.
Joey's engineering skills were clearly on display with the cantilevered bunk beds that occupied one wall, leaving the bulk of the space for recreational purposes. The largest TV I had ever seen faced two sofas and a futon mattress strewn with floor pillows. The "mosh pit" Joey called it. A DVD player, stereo and several gaming consoles completed the audio-visual set up.
Noah whistled. "How do you guys study?"
Scalzotti chuckled. "That's what the library's for."
Next to the futon stood a small refrigerator, out of which he grabbed several cans and handed around the beers.
"Don't worry, Rufus, it's low-carb." He trailed his beer can along the exposed skin below the hem of the footballer's shirt.
Rufus hissed at the contact. "That's cold, man."
'You look like you could use some cooling off." Joey's hand drifted lower to graze along the large bulge in Rufus' shorts. My own cock was getting hard just watching.
"I don't think I want to cool off just yet." Rufus placed a hand on Joey's neck and pulled him closer. Their faces stopped just short of each other. Joey's hand came to rest on Rufus' chest; his other continued to hold his beer, forgotten.
Thanks for reading!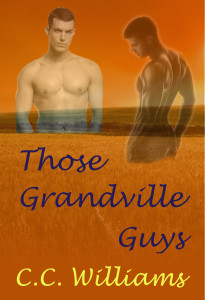 To pick up an e-copy of Those Grandville Guys, visit one of these retailers:
All Romance eBooks  |  Amazon  |  Etsy  |  Smashwords
'Til next time!