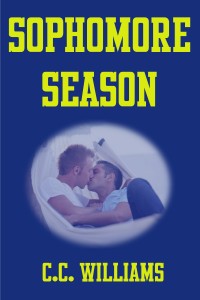 My second year omnibus collection, Sophomore Season, will be available soon in print and ebook!
From the back cover:
Sophomore (from the Greek 'sophos' wise + 'moros' foolish) has come to mean a second year, when it's really about knowing that there's still more to learn.
C.C. Williams presents a selection of pieces from his second year's production. The results of his sophomore season.
Some romance, some hot sex, a little comedy, a little darkness. Sophomore Season presents sixteen stories, including three previously unreleased shorts:
Coxswain All the Way – in which two crewmates make the most of rowing camp;
Class Reunion – where two old footballers are thrust together with unexpected results;
What Are Friends For? – answers the question of what happens when you add pot to porn and lube!
Also included is the much-anticipated print appearance of Side Effects, the most recent Grandville College novella, as well as stories from the ebooks Hookin' Up and Working Trade.
Sophomore Season will make you wonder what more you have to learn!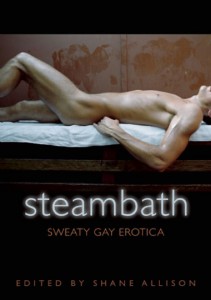 Also coming out soon is Shane Allison's most recent anthology Steambath: Sweaty Gay Erotica. This collection includes my short, What I Am For.
From TLAgay.com:
Steamy encounters in the bathhouse have been the stuff of erotic legend for centuries, just ask Spartacus! Shane Allison turns the stereotype on its ear in Steambath, a rollicking romp of pretty boys and dashing daddies doing it. From fresh faced twinks to to silver foxes and beautiful bears, Shane delivers sensational stories where every man is naked ALL THE TIME! A towel-snapping good read, is filled with sizzling porn bodies, sexy boys next door, and tantalizing tricks that fully capture the erotic dynamic of between men.
Rob Rosen turns up the heat once again in his new tale, "The Key." A young detective sets out to investigate the disappearance of a young twink, but finds more than what he ever thought imaginable in Logan Zachary's "Incubus Steam." Things get hot and heavy when a college professor and one of his horny students stumble upon a European steam bath in Jarrett Neal's "The Chaperones." Freak-nastiness is at its best in Heidi Champa's, "Showtime." C.C. Williams will make you quiver in his tasty new creation, "What I Am For."  I can never get enough of gay porn veteran Landon Dixon and his story "Saunsational" is no exception. Newcomer T.R. Verten heats things up "Across the Bay." It's sex nostalgia at its best in Jimi Goninan's, "Meanwhile.in the Sauna." Dudes get nasty in Gregory L. Norris's, "The Gay Dude." Find out what's up "Arnie's Ass" in Troy Storm's new one.
Shane Allison is a rising gay erotica star and proves it with Steambath.