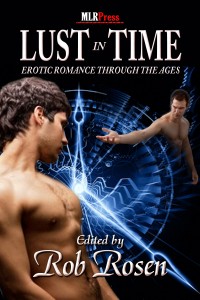 Lust in Time: Erotic Romance through the Ages is now available from MLR Press in both print and ebook formats.
Since I've been tagged by Ciaran Dwynvil in the 7/7/7 meme on Facebook (this is how you play: Go to page 7, 77 or 177 of your manuscript, count down 7 lines, then copy the next 7 to your status; after that, name 7 more authors to come out and play), I'm taking the opportunity to promote the Lust in Time release. My bit is from my story Giant Killer, which is the 1000BC entry in the anthology:
While he and Ziba travelled from Bethlehem, David had planned how he would answer Saul, how he would make the king see that Jesse needed him at home. Back and forth he'd debated with himself until he knew exactly what he would say. Now that was all gone, and he was just a shepherd kneeling before the mightiest man in Israel.
When Saul bid him look up, David glanced at the soldier. The man smiled—and that smile reached those deep-brown eyes and filled David with a sense of calm and confidence. He realized that no words would convince Saul; only music could sway the king. And music he could make.
Click here to read the excerpt at MLR Press (which happens to be the opening of Giant Killer) 😉 .
Check out Facebook to see who I've tagged. (Hint: They're also in the anthology!)
'Til next time!