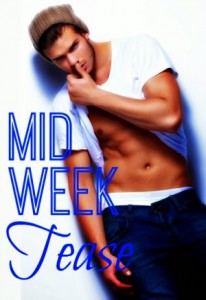 Hello, folks! Time for this Wednesday's Mid Week Tease!
We continue with Ron and Charlie's "tour" of the Alpha Gamma Pi fraternity from The Pledging:
"Joining a fraternity is joining a family." Low and hypnotic, Jamal's voice held his attention. "There's a reason we're called brothers—just like biological siblings, we're alike in some ways and different in others. We'll laugh, we'll argue…" The coasting fingers had become stronger; Jamal pressed and massaged with his hand, as Charlie relaxed more and more into the caress. "We'll fight, we'll play…"
Doubt and fear still clamored in Charlie's mind, but those apprehensions were quickly drowning in a rising tide of hormones. Christ! He wanted to feel something on his cock other than his own hand. Jacking off in the shower—unlike his dorm-mate, it bothered Charlie to masturbate with a non-participant in the room—was not good enough; orgasm dispelled the immediate craving, but did nothing to solve the problem—he was horny. And now, with a hot upperclassman half-naked and rubbing his back, why was he thinking all stupid and scared?
"But, most importantly, we'll also love—which is my favorite part." An arm followed the fingers and hand to lay across his shoulders, heavy with expectations.
Aww, fuck it, Charlie thought. He melted against the warm, firm body, wrapping himself into the embrace. Lips brushed his cheek, and he turned toward the fraternity brother. Jamal's mouth was hot velvet against his skin, as the older boy traced along his jaw line to nuzzle beneath his ear. Wandering lower, Jamal moved aside Charlie's shirt collar to ghost over his collarbone. The water bottle slipped from his grasp and thumped to the floor, forgotten.
Thanks for stopping by!
Please leave a comment before visiting the other Teasers.