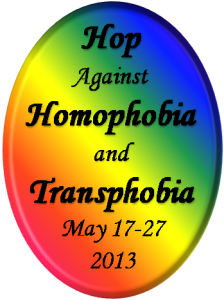 Greetings, all! Welcome to my first post for the Hop Against Homophobia and Transphobia!
In conjunction with the International Day Against Homophobia, the hop runs from May 17th through the 27th. Over 170 LGBTQ authors, publishers, reviewers and artists have joined together to increase awareness of the ongoing issues regarding homophobia and transphobia. Visit everybody throughout the Hop for great information and cool prizes!
So I've been racking my brain about what to write for this Hop post. What can I add to the mix that is new or informative or interesting? I mean—come on—everything that has needed to be said has been been said, right?
Well, apparently not…
Today (Thursday) I came across this article on glo.msn (yes, it's originally from Cosmopolitan) about punk rocker Tommy Gabel from Against Me!, who is now Laura Jane Grace. Great articles, both on glo and Cosmo, with lots of supportive comments and brouhaha about pronouns (the Cosmo article uses "he" when referring to pre-transition Tommy and "she" when referring to Laura–some people didn't catch on to the chronology.)
Yet, the VERY FIRST comment on glo reads as follows:
Woopie! Another mentally ill person being coddled by the medical industry. The people who perform this surgery are the real criminals. Is this man so despirate(sic) that he needs to become a fake woman to advance his music career? Well yah got your name in the news. Let's hope it never appears there again. A man can not become a woman even if you do turn his thing inside out. It's sad that this nonsense even is news.
So apparently we do need to continue to educate, inform and generally shout down the ignorant people of the world. It was nice to see the number of scathing reactions to Norman's comment (if you scroll down far enough, you'll see mine).
Many best wishes to Laura as she continues her journey…
Now part of this Hop is, of course, PRIZES! Leave a comment below with how you would respond to Mr. Norman (along with your valid email address) to win an e-copy of my most recent release, Side Effects, a contemporary M/M romance. The winner will be chosen from comments to this post (other prizes will be forthcoming on other posts) and notified through their email, following the conclusion of the Hop on the 27th.
Good Luck!
Be sure to check out the rest of the Hop participants—and enter to win other fabulous prizes—here:
'Til next time!
UPDATE: (05/27) – I have a second post with its own drawing here.