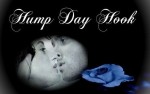 Greetings, all! It's time for Hump Day Hook! I'm continuing with Ark, so we can learn some more about Luk and his world:
Luk walked down the two levels to the Research Lab where he had his work assignment. Master Jon was called a botanist; he studied things called plants. Jon's plants were green floppy things with hairy looking white bits that floated in trays of sticky liquid under blue lights. The lights made Luk's skin glow oddly. According to the Tutor, Old Erth had once been covered with these plant-things, but they had been in the ground, not trays of biogel. Luk tried to imagine green things growing out of the floor. The thought made him queasy.
Thanks for reading! Be sure to check out more of the Hookers here.
'Til next time!