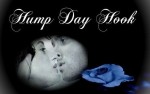 Greetings, all! It's Hump Day! And even better—it's a giveaway day!
Yep! Each author on the HDH loop is hosting a giveaway, so be sure to visit everybody for lots of chances to win!
For today's hook, I'm continuing with my WIP, Ark. If you would like to catch up with Luk and his world, click here.
Luk dropped down and sat on his haunches, a thumbnail trapped between his teeth. The misteree called to him. What was behind the rack? Why wasn't it in the schematics? He glanced from the shelves to the hallway and back.
With a sharp nod, Luk crept across the room, quickly looking up and down the companionway. Master Jon was occupied out of sight, whistling tunelessly as he worked. Luk keyed the lock code, and the entry slid closed with a soft shush.
Quickly he unloaded the contents of the shelves, piling the containers wherever they might fit. Next went the entire section of shelving, each piece stacked neatly to the side. The exposed bulkhead resembled every other section of wall in the Ark—gray plastinel squares joined to more gray plastinel squares. Luk examined the segment and could find no irregularity, hearing only a hollow thump with every tap. He poked and prodded along the connections and was rewarded with a snick. A section had come loose.
Luk let out the breath he'd been holding. Grabbing hold he pulled, and the entire section swung out to reveal a door—a really strange door.
So, what's beyond the door?
Leave a comment with what you think lies beyond the hidden door—along with your valid email address—to be entered in a drawing for a $5 Amazon gift card!
Be sure to check out more of the Hump Day giveaways here.
'Til next time!