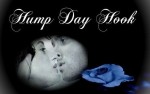 Greetings, all!
It's Wednesday and time for Hump Day Hook! I'm continuing with my dystopian work in progress, Ark.
Luk's thumb again found its way to the corner of his mouth. If the schematics were at all correct, there was no reason for this door in the first place—yet there it was. Hence, it must lead someplace. But to where? Cru-member spaces were restricted; to trespass was to invite disciplinary action. Clearly the door was unused, but Luk suspected that would not be an argument in his favor, should he get caught.
He glanced over his shoulder. Master Jon would not come to check on him; there would be no question in the Tutor's mind that Luk was focused on his task—his reliability distracted from his differentness.
Now his curiosity warred with his caution. The schematics. XAP. The hidden door. The dust.
Curiosity won. Luk stepped forward, pushing on the door. It shifted in its frame and sent an avalanche of gray powder over Luk's hand. But it did not open. The metallic protrusion moved a little—maybe it was key to getting through the door. Luk could turn the piece left and right, only to have it spring back to its original position. Frustrated, he shook the piece and pounded on the gray metal. To no avail—the portal remained closed.
Clearly he had a lot to learn about doors.
Thanks for reading! Be sure to check out more Hooks here.
'Til next time!