Happy New Year!
Looking for something fun to kick off 2014? Well, check out our party over at Chelsea Rafferty's Facebook event!
Over 40 authors are presenting games and quizzes and other neat things to do from today through the 9th. All sorts of things are available as prizes, as well as TWO Kindle Fires and THREE $25 Amazon gift cards as grand prizes!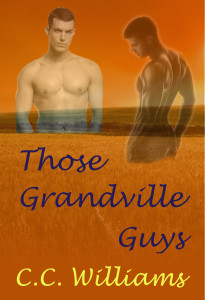 Those Grandville Guys is the book I'm promoting. I'm scheduled on Monday, the 6th (so mark your calendars), but definitely stop by every day and check out the other authors. Everybody has cool stuff for prizes—from ebooks to fun swag to signed copies. And there are already some hot pics posted too!
Those Grandville Guys is now available in ebook, and for those old schoolers out there, the paperback edition is in final production and will be available soon. Hint: You can earn additional points in the Grand Prize drawing through purchases of the featured books.
All Romance eBooks  |  Amazon  |  Etsy
Happy New Year and see you on the 6th!
'Til next time!