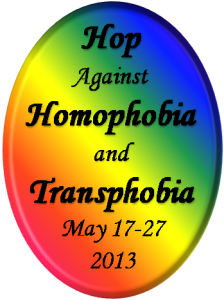 Greetings, all! Welcome to another post for the Hop Against Homophobia and Transphobia. I had originally intended to do several posts throughout the Hop, but we all know about good intentions… To read my first post, click here.
So, to finish things off I wanted to start this post by highlighting a recent event which I feel is a positive indication of how the world is changing little by little:
In February, US Olympian and Leeds United soccer player Robbie Rogers came out as a gay man—and left professional soccer. Read about that—with some hot pics—here.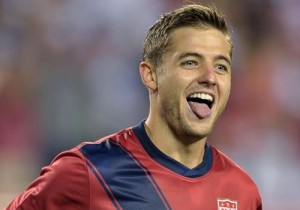 Last night (Sunday), he debuted with the LA Galaxy as they defeated the Seattle Sounders, making him the first openly gay, professional soccer player! First, there's Jason Collins playing basketball, now Robbie playing soccer. So, what happened to the myth of no gay sports stars???
I think it's high time that ALL the closeted players—and God knows, there has got to be more than two—throw off their chains of self-imposed oppression/repression and join the rest of us in the light! It may not always be sunny—but it sure as heck is a lot less dark and dreary!
Gay, lesbian, trans professionals of all sorts go to work every day and talk about their REAL lives with the REAL people with whom they work. That is what makes the REAL difference in changing peoples' minds about homophobia and transphobia. Why should professional sports players be any different? A great many of them can make an even bigger difference because people look up to and admire them. With great power comes great responsibility.
~~~
"If God had wanted me otherwise, He would have created me otherwise."
–Johann Wolfgang von Goethe
I like this quote because the meanies are always saying how God doesn't like something—or someone—which acts/behaves the way God made it/them. Well, they should take their grievance up with God and leave the rest of us alone!
~~~
I'm finishing up with some eye candy!
Our featured guest, Robbie Rogers.
And finally some romantic kisses to remind us that ultimately it's all about loving someone—whomever that may be—the way we want to—however that may be—without anyone telling us it's right or wrong!
I am doing a giveaway from this post too! Leave a comment by midnight (PDT) on Tuesday, the 28th, with either your thoughts about closeted sports players or your own favorite kiss photo, along with your valid email address, to receive a chance to win a selection from my backlist! The winner will be randomly selected from the comments and notified through their email.
Thanks for reading!
'Til next time!