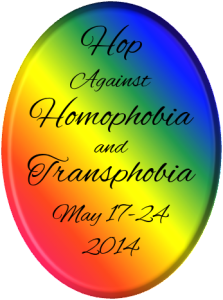 Welcome, all you hoppers, to my Day 1 post for the 2014 Hop Against Homophobia and Transphobia! Today is the International Day Against Homophobia and Transphobia, and our hop will running for a week to bring attention to this problem.
No matter how serious the topic, no hop would be complete without prizes and freebies. Be sure to leave a comment and check back frequently. I like to do random little things! As well, on the 25th, I will be drawing a name at random from all comments on my HAHAT posts for an e-format copy of my newest release Those Grandville Guys, so talk things up!
The Kiss Seen 'Round the League
I had one topic that I thought I might write about for today's post. But the NFL draft happened–now that phrase alone is something I never thought would have shown up on these pages–and then Michael Sam kissed Vito Cammisano live on ESPN: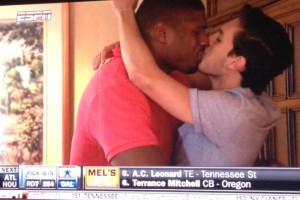 Which was, of course, followed by the end of the world… or not.
Now I realize that Michael Sam hasn't made the team's final cut yet–so all the haters screaming about a gay guy in the locker room are premature–but it's still a watershed event.
This simple act of happiness and togetherness has caused so much consternation and horror–I mean, really, a gay, inter-racial kiss between two hot athletes–you would think they had sex on the table. Not that there's anything wrong with that! Although, the mashing cake was a little much for me, but I hate being sticky…
After all the years of not seeing myself reflected on the TV box, I still always enjoy seeing our lives depicted as what they are–just normal lives with the happiness, the sadness, the ups and downs everyone else endures. But for me the kiss was not the real story.
What caught my eye is at the very beginning of some clips and not to be seen in others. It's the way Vito rubbed Michael's arm while he waited as Michael listened to the phone. That small gesture–a simple, yet incredibly intimate touch–spoke volumes to me. It screamed, "I love you, and I'm here for you whatever happens." I found it very romantic–and much more erotic than the kiss.
I wish lots of luck and success to Michael as he begins his career and the very best to him and Vito as their relationship enters some truly uncharted territory. Follow  @MichaelSamNFL and @VitCamm on Twitter and show them some support!
Leave a comment with your thoughts about how the NFL players will treat Michael, or how the wives/girlfriends will react to Vito. All comments with a valid email address will be eligible for the drawing.
Then, be sure to visit the next stop on the Hop: