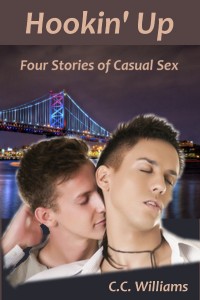 My erotica mini-collection, Hookin' Up, is now available at your favorite e-tailer!
From the cover blurb:
Looking for heat with no commitment? Then this mini-collection is right for you!
Hookin' Up is a mini-collection of four hot and heavy stories of casual gay sex. The collection includes Chain of Command – a story of military menage; Sex, Drugs and Rock'n'Roll – a broke hitchhiker works out a deal for a ride; Chulos – sexual tension builds in the Sonoran desert; and Pumped Up – a bodybuilding champ gets steamy with a competitor.
These guys aren't looking for love; they're just Hookin' Up!
Click here to read an excerpt …
Pick up a copy today!