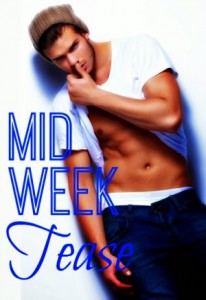 Welcome to Wednesday and the Mid Week Tease!
As some of you know, I always have little things brewing on several back burners. It's really quite symptomatic of my WADD—not to mention that I bore easily. So I sifted through some WIPs and came across a noir-y sorta mystery I have under construction.
Today's Tease is from The Case of the Leonine Lover:
From first I could tell he was going to be trouble.

A mane of blond hair, long enough to curl on his collar, caught what sunlight managed to barge through the smudgy windows of the office building. As he leaned against the wall beside my door, that same light caressed the bronze skin of his crossed arms; judging from the size of his biceps, they alone were probably keeping some expensive gym in business. A white V-neck tee-shirt stretched over his sculpted chest, clinging to that muscled torso like a needy lover.

I sighed—the last thing I needed was trouble. But I did need to pay the rent—at least last month's—so I nodded as I approached the door.

He levered himself away from the wall and extended a large hand. "Mr. Dimon?"

"Like someone else would be coming here at 9:30 in the morning?" Warily, I buried my hand in the outstretched paw.

His grip was considerate – not the "I've got more testosterone than you do" crusher of most hyper-masculine gym posers I'd met. His skin was soft, too. I wanted to kill him – or fuck him. Fuck him hard and fast, and put him out in the morning with the milk bottles. "That's me. What can I do ya' for?"

"I'm about to be arrested for murder."
Thanks for stopping by!
Please leave a comment before visiting the rest of the Teasers: